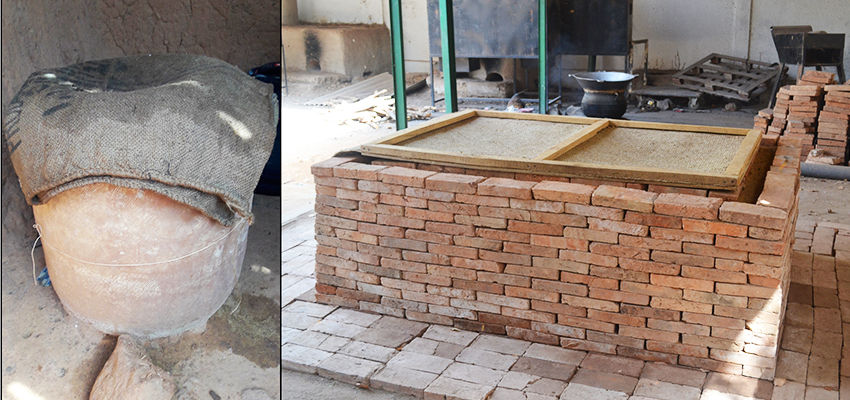 Two examples of an evaporative cooling device for vegetable storage and preservation.
Evaporative cooling devices have promise for helping small-scale farmers, market vendors, and families to store and preserve vegetables.
Practical and affordable storage technologies have the potential to prevent food loss, strengthen the perishable food supply chain, and create opportunities for additional income generation. Evaporative cooling devices are simple and inexpensive ways to keep vegetables fresh without the use of electricity. These devices function according to a basic principle called "evaporative cooling," where the evaporation of water from a surface removes heat, creating a cooling effect. 
Evaporative cooling can improve vegetable storage shelf life by providing a stable storage environment with low temperature and high humidity, which reduces the rate of respiration and water loss and spoilage in most vegetables. The improved storage environment can have positive impacts including reduced post-harvest losses, less time spent traveling to the market, monetary savings, and increased availability of vegetables for consumption.
Call to action: Five areas where work is needed
Given the benefits that evaporative cooling devices can provide for post-harvest vegetable storage, why are they not more widely used? What can be done to increase the effective production, dissemination, and usage of this technology? Following is a list of the five key areas identified by MIT D-Lab that need further development in order to optimize these technologies and dissemination approaches, and to build further evidence for the impact that could result:
Evaporative Cooling for Vegetable Preservation: Resources

Evaporative Cooling Technologies for Improved Vegetable Storage in Mali

MIT D-Lab and the World Vegetable Center recently published a research report evaluating technologies designed to improve the storage of vegetables using evaporative cooling. The methodologies used included interviews with users of the cooling and storage technologies, interviews with stakeholders along the vegetable supply chain, and sensors to monitor product performance parameters.
Evaporative Cooling Best Practices Guide
Provides guidance on best practices for determining the suitability of evaporative cooling technologies for a specific context, construction and usage of clay pot coolers and evaporative cooling chambers, and dissemination approaches.
Evaporative Cooling Decision-Making Tool
An interactive Microsoft Excel-based decision-making tool to help determine if evaporative cooling devices are suitable for a specific context, and to guide the calculation of potential financial savings. 
---
Contact
Eric Verploegen, Research Engineer, Food-Water-Energy Lead