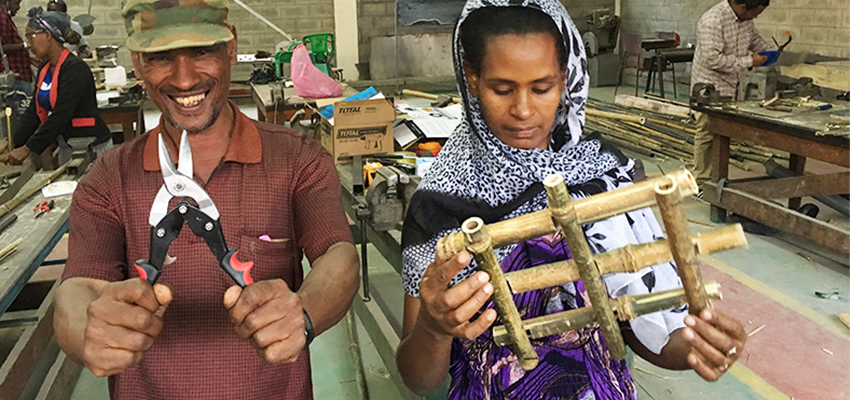 MIT D-Lab - PSI WASH Summit, Ethiopia.
Our interactive workshops seek to build the capacity of a diverse set of stakeholders on- and off-campus.  We do this mainly through participatory design.  
Participatory Design is an approach to using design methods (iteratively learning, imagining, creating, and testing solutions to challenges) in a way that ensures the involvement of stakeholders directly affected by the resulting design. There are many design methods and stakeholders might be invited to participate in ways ranging from simply being consulted to being active creators and decision makers on a design team. 
Three ways MIT D-Lab practices participatory design
Design for people who are experiencing poverty-related challenges
Design with people who are experiencing poverty-related challenges
Design by people who are experiencing poverty-related challenges 
We don't view one of these approaches as being inherently better than the other; the context determines the most appropriate way to work. D-Lab classes, for example, often use a 'design for' approach in which stakeholders are engaged but most of the decision-making rests with student teams. In D-Lab's Innovation Practice work, on the other hand, we specifically focus on understanding how  "design with" and "design by" people who are directly experiencing poverty-related challenges can lead to measurable impact. 
We view each participant as a creative agent, bringing certain assets and abilities to the design team.  As such, our pedagogical style is to provide collaborative roadmaps and frameworks and to facilitate inclusion, connection, and co-creation between participants.  Practically, this means workshops entail working with a diverse team and participating in a series of kinesthetic learning opportunities and co-creative challenges together.  
Beyond building better solutions that can reach users, participatory design workshops tend to catalyze participants to:  create, use, and share solutions;  build stronger, more inclusive programs; and start new partnerships and collaborations. 
Our ultimate aim with participatory design is to not only produce solutions that improve livelihoods but to enable each person to see themselves as an equipped problem-solver and an active collaborator in a more inclusive innovation ecosystem.  
MIT D-Lab Workshops
Creative Capacity Building (CCB) Workshops 
Innovation Ecosystem Workshops
---
Contact
Sher Vogel, Global Trainings Manager