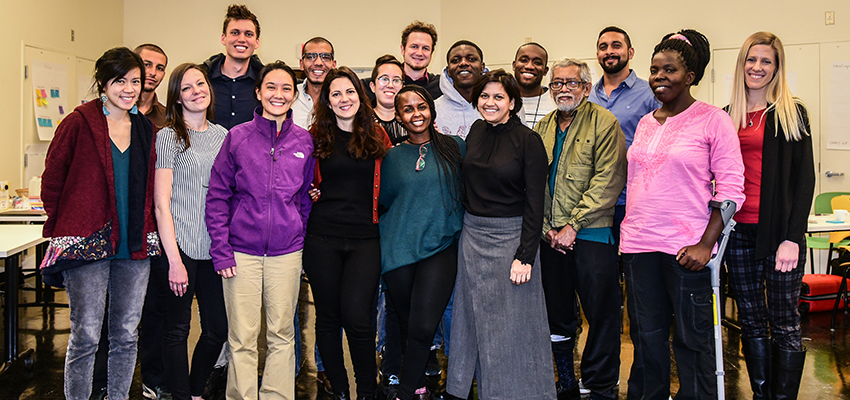 D-Lab Scale-Ups Fellows and staff, April 2018 retreat.
A global accelerator working exclusively with local entrepreneurs bringing poverty-alleviating products and services to emerging markets at scale.
---
The D-Lab Scale-Ups Fellowship story
Launched in 2012, the D-Lab Scale-Ups Fellowship is a one year program, providing a $20K grant to each fellow and tailored mentoring, capacity building and inclusive design training, and networking.
The program has supported 33 Fellows working on four continents in sectors including agriculture, energy, water, health care, housing, livelihoods, mobility, recycling, education, and personal finance. Fellows supported between 2012 and 2017 raised $12.6 million in investments; have created over 405 direct and 3,176 indirect full-time equivalent jobs; and, through their product and service offerings, have directly improved the lives of over one million people living in low-income settings.

  Download the D-Lab Scale-Ups Fellowship Impact Infographic
Initially open to MIT alumni and International Development Innovation Network members, the program underwent a redesign in 2018 and is now focused exclusively on local founders.
Working with local venture founders - by (re)design
Of the 33 Scale-Ups ventures supported from 2012 to 2017, 46 percent had a founder or co-founder local to the venture market. Founders and Co-Founders brought into the program from 2019 forward will all be from the countries where they launch their ventures.

We believe that working with local founders has certain advantages - they reflect the demographics of the markets they serve, their lived experience helps them identify unique, scalable, market-based solutions overlooked by others, and they are more likely to stay for the long haul - thus having multiplier effects by developing local talent and infrastructure.
By deploying novel approaches to identify and support high-potential local founders, we remove pipeline bias and broaden the pool of homegrown high-impact ventures in underserved markets. We align our support to closely match and meet their unique needs these early-stage but high-growth indigenous entrepreneurs with solutions overlooked by others.
Read more about the general profile of ventures and entrepreneurs we seek to support.
Approach
Create runway for high potential local entrepreneurs
We bridge the opportunity gap by recruiting local founders from emerging markets. By deploying creative sourcing and screening methods, we identify intrepid local entrepreneurs tackling poverty challenges in innovative ways. We leverage our unique position at MIT to create a runway for these founders and offer them with an unparalleled global platform to amplify and share their work.
Develop new blueprints for growth
We  tackle the knowledge gap by putting Fellows in the driver's seat of their 12-month acceleration journey. Our entrepreneurs guide us to provide support that is tailored to address their pain points, delivered fast, and focused on the essentials. Our curriculum is experiential, dynamic, and focused on transforming mindsets not just capabilities.
Catalyze local ecosystems
We mitigate the connectivity gap by taking the accelerator cohort model to a new level. Each year, we will recruit entrepreneurs in regional cohorts at similar stages of growth. Throughout the year, Fellows tackle challenges in peer groups, fostering strong community and collaborative action. We also mobilize complementary partners around them and build out ecosystem relationships. We will rotate our region of recruitment annually, building global networks around our Fellows.
Read more about the program here.
Calendar
Cohort Selection
October-November: Open application
December: Interviews and selection
Fellowship
January: Onboarding of new Cohort
Full calendar year
Annual Retreat
April: Fpour days at MIT to network with MIT guests, D-Lab staff, select corporations, international organizations
Attend sessions and technical workshops
Ongoing support
Continued engagement with alumni community and access to ongoing services and convenings