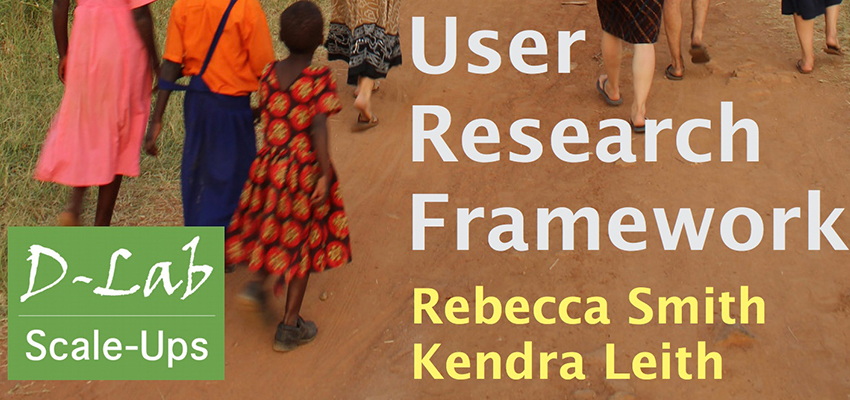 D-Lab Scale-Ups User Research Framework Revised 2015, 53 pages
D-Lab at the Massachusetts Institute of Technology is building a global network of innovators to design and disseminate technologies that meaningfully improve the lives of people living in poverty. The program was founded in 2002 and has long focused on hands-on, experiential learning and community-led development. We believe that designing with, rather than for, people will result in better outcomes. Supporting beneficiaries to design their own solutions is sometimes an even more effective approach. With the creation of the Scale-Ups program in D-Lab in 2011, reflection on how to have larger-scale impact led to a renewed focus on the early-stage design process. We believe that a strong understanding of user and customer needs, their context, and factors in decision making will better inform later-stage design work and increase the potential for positive impact. The outputs of qualitative user research—prioritized needs, insights, user and customer profiles, and design requirements—will provide a strong foundation for the design phase of your project and inform subsequent ideas and decisions.
In the field of international development, many designers are creating products or services for populations of which they are not native members and areas in which resources are very limited or constrained. Within this context, it is important to spend sufficient time researching the needs, values, and dreams of users. A deep, real understanding of the problem is a key part of reaching a better solution; how can you solve a problem if you do not understand it?
As user experience designer Steve Baty writes:
"Design has two important goals: delivering a good solution—getting the design right—and solving a significant and meaningful problem—getting the right design…Time and time again, you'll see organizations that are good at getting the design right, but implement products or services that fall flat as far as customer adoption and utilization are concerned…There are several ways you can tackle this problem, but they all come down to this: find a way to understand your potential customers. Understand them as deeply as you can. What motivates them? What are their needs? What is the physical context in which they live, work, and play; the culture within which they sit?" (Baty 2012).
This document, the Scale-Ups User Research Framework, has been written to help individuals and organizations effectively plan and conduct qualitative research in the field. We provide guidance on how to plan user research, explore key qualitative research methods in depth, and share how to turn research outputs into actionable insights that will lead you into the next phase of design. Throughout, we share examples and tips that draw on D-Lab's previous learnings and exemplify our approach. We focus on qualitative research because of the richness of information that can result, the benefits of building empathy through firsthand experiences, and the ability to quickly adapt the methods and still effectively collect information. Quantitative research methods may also have a place in your early-stage design work, but they are not a focus in this resource.
The framework is a guide to get you started: these are recommendations and theories, not strict rules. Follow your instincts, try new methods, and please share what you learn. Our hope is that you learn about needs firsthand and use your rich insights to develop solutions that meet users' needs, appeal to users and customers on multiple levels, and improve lives.