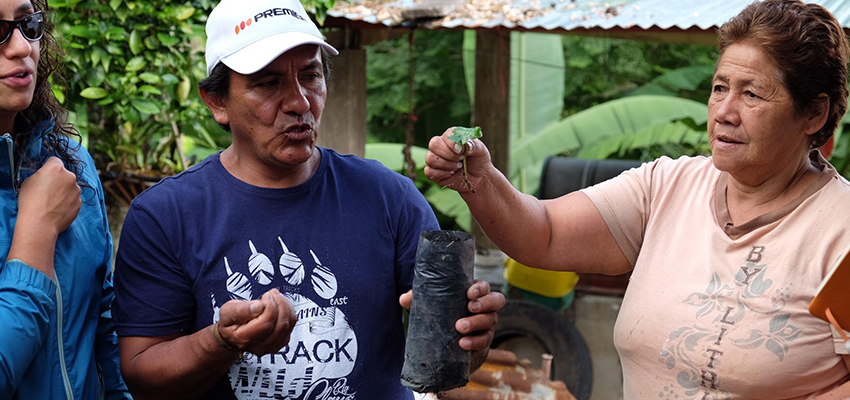 Carlitos and Maria, cofounders of Aprenat, show D-Lab students the coffee growing process. January 2018.
Join farmers from two Colombian coffee growing associations and students from universities in Guatemala, Brazil, Ethiopia and Colombia in co-designing, building and implementing low-cost technologies to improve small-scale coffee production.
IAP fieldwork-based course
Coffee plays a key role in Colombia's economy. Almost 600,000 families are currently producing coffee in the country, from regions bordering  Ecuador in the South, up to the Caribbean Sea region in the North. Average annual coffee production in Colombia reaches close to 12 million bags and it represents  the third highest in the world only after Brazil and Vietnam. In most cases, and due to the way property and land is structured, harvesting and post harvesting processes are carried out by the farmers themselves. Infrastructure for carrying out these processes locally varies across producers with a growing interest in technology that can provide support both production stages.
In this IAP course, taught by Pedro Reynolds-Cuéllar, small-scale coffee farmers and students from MIT and other universities in Colombia, Brazil, Guatemala and Ethiopia, will co-design technologies to help improve the coffee production process.
Travel
Students will travel to Bogotá/Fusagasugá, Colombia January 6 to January 28, 2019.
MIT students will have all expenses covered.
Apply by December 2, 2018
The course is limited to 12 graduate and undergraduate students and the selection process will be carried out using this application form. We are looking for students with either engineering, art, social sciences or business backgrounds. Selected students will receive a full funding to be part of this experience.
Students should submit application online by December 2, 2017.
Partners
C-Innova, MIT Media Lab, Universidad de Bogotá Jorge Tadeo Lozano, Universidad del Valle de Guatemala
Supporters
MIT D-Lab, International Development Design Summit, MIT J-WEL
---
For more information
Course Information
Semester Offered
IAP 2019
Units (credit hours)
No academic credit offered