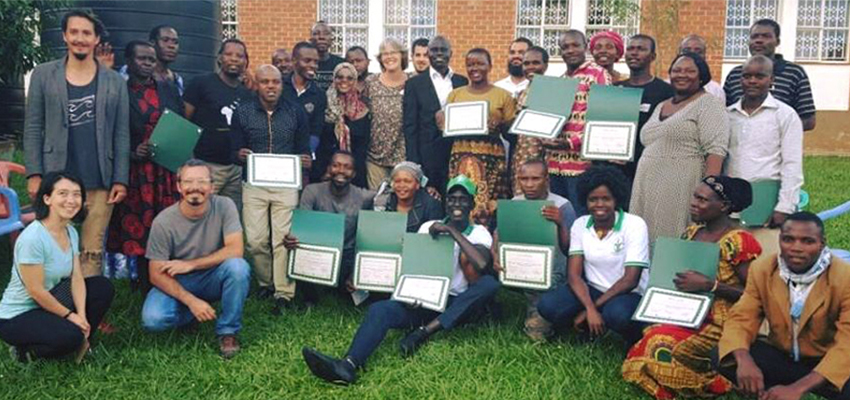 Creative Capacity Building Training of Trainers, Uganda, 2017.
What is CCB?
Creative Capacity Building (CCB) is a methodology that invites people to use their creativity and deep local knowledge to develop solutions to challenges they identify as relevant to improving their own lives and communities. MIT D-Lab has distilled key elements of the participatory design process into a hands-on curriculum that is accessible to anyone at any educational level and is adaptable to a range of themes and settings. CCB workshops focus on the potential impact of the process of innovation itself, not just the products of innovation (technologies), as we view design as a pathway to building self-confidence, inspiring self-efficacy, and enabling anyone with interest to become a solution-finder. 
A goal of CCB is for participants to co-create local solutions that will improve their lives and strengthen their communities. Projects have ranged from improving farming or food processing efficiency to increasing access to energy, water, sanitation or information, to creating a broad range of income-generating opportunities, CCB workshops have often focused on creating prototypes of technologies. New curriculum explores the creation of businesses and the application of the design process to other forms of problem-solving. 
CCB workshops are often hosted by a local implementing partner, facilitated by 2-3 instructors and consist of 15-25 participants divided into  3-5 project teams.
Goals + Takeaways from Creative Capacity Building
During CCB workshops, participants build:
capacity to use a design process to solve local challenges
capacity to build and prototype with locally available materials
capacity to work in teams
confidence to identify and take on challenges
recognition of own potential and agency to solve problems
an expanded network of new and strengthened relationships
Post-Creative Capacity Building Support
A CCB workshop is only the beginning of a process intended to foster long-term changes in the way that participants approach solving challenges in their communities. After the excitement of creating an early-stage prototype during the initial workshop, it is critical to plan for the ongoing support of innovators and their innovations. D-Lab works with local partners to design these ongoing efforts, which may include providing mentoring, technical assistance, tools, materials, micro-loans, trainings and/or workshop space. 
Outcomes of Creative Capacity Building
Specific outcomes of a CCB vary by country and context, but in general, we have seen that after the workshop, participants:
continue developing a CCB prototype
apply the CCB design process to create new technologies
apply the CCB design process to improve existing community projects
use CCB technologies in daily life
experience increased productivity and income
are better prepared to participate in a Co-Design Summit
A randomized trial study of CCB workshops in Uganda has been completed and publication of the results are forthcoming; initial data suggests a positive effect of CCB workshops on the productivity and income of participants.
Creative Capacity Building Facilitator Workshop
A Creative Capacity Building Facilitator Workshop is a two-week, hands-on opportunity for facilitators who would like to learn the CCB curriculum and collaborate on different facilitation methods and strategies. Facilitators will experience CCB together, co-create new material, and practice facilitating the CCB curriculum. As part of the facilitation workshop, participants are also exposed to the theoretical underpinnings of adult learning, sound facilitation, and inclusive innovation.  
MIT D-Lab is currently in the process of developing a certification process for CCB facilitators.  More information coming in 2019!
---
Contact
---
Creative Capacity Building and the International Development Innovation Network
Creative Capacity Building in Uganda: Qualitative case research into the impact of CCB on individuals and communities