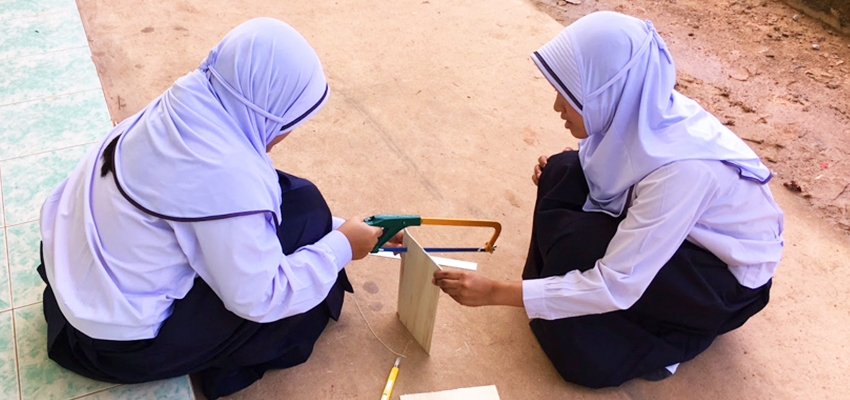 rECOLAB student project, Thailand, 2016.
Using innovative and proven best-practice models to create curriculum and implement instruction about design thinking, science, engineering, global learning, community activism, and more.
With an emphasis on experiential and project-based learning, this class explores pedagogical concepts and skills to nurture creativity in youth. The class explores ways to overcome challenges in resource-poor settings such as lack of materials, language barriers, large class sizes, and entrenched pedagogy.
Teams & Projects
Students collaborate on projects with local and international partners, with a focus on K-12 classrooms and community learning centers.
Fieldwork & Travel
Fieldwork opportunities available in the summer. Local fieldwork and classroom visits required throughout the semester.
Limited enrollment - Short Application Required!
In order to best meet the needs of our international partners and the children they serve, this is a limited enrollment course. Applicants who best exemplify a dedication to respectful, authentic partnership with local and international communities, as well as a commitment to designing equitable educational experiences for children and adolescents, will be invited to join our learning community.
This can also include a willingness to learn about these approaches, even if you are new to this work or field. In all these questions, reflectiveness and honesty will be much more highly valued than experience.
Again, this course does not require a certain level of prior knowledge; it is suitable for students with varying levels of teaching, education, community partnership, and design experience.
Apply. Due by 11:59 pm EST on JANUARY 14, 2019. You will hear back via email by January 18, 2019.
Course Information
Units (credit hours)
2-2-5
Course #
EC.717 / EC.787 (G)