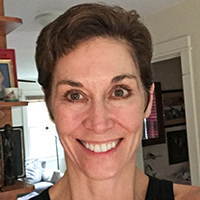 Inclusive Economies Specialist; Lecturer D-Lab: Gender, D-Lab: Inclusive Economies
Inspired by MIT D-Lab's co-creation methodology, Libby McDonald first came to D-Lab in 2011 and has developed three courses, D-Lab: Gender and Development, D-Lab: Inclusive Economies, and D-Lab: Waste (not offered currently).
In addition to teaching, Libby is developing large-scale Inclusive Markets programs that spur the development of thriving, inclusive economies that provide livelihood to people working in the informal sector in low-income countries.
Prior to her work at D-Lab, she was Program Director of Global Sustainable Partnerships at MIT's Community Innovators Lab, partnering with the Inter-American Development Bank (IADB) and United Nations Development Program (UNDP) to create regional networks of small-and-medium-sized waste and recycling businesses that simultaneously provide jobs to people living in extreme poverty and help move regions towards zero waste in Panama, Mexico, and Nicaragua.
Passionate about recycling and regional food initiatives, Libby supports local agriculture and makes a valiant effort to maintain a zero waste household.